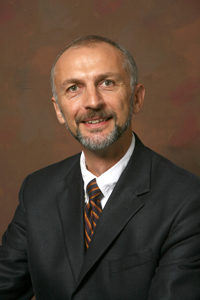 Alexander Drakopoulos
Associate Professor
Civil and Environmental Engineering
Office:
Haggerty Hall -Room 263
Address:
Marquette University
Department of Civil, Construction & Environmental Engineering
P.O. Box 1881
Milwaukee, WI 53201-1881
Contact:
Phone : (414) 288-5430
Fax: (414) 288-7521
E-mail: Alexander.Drakopoulos@Marquette.Edu

Courses: (G=Grad., U=Undergrad.)


CEEN 2320 - Civil Infrastructure Modeling
CEEN 3610 - Transportation Engineering(U)
CEEN 4615 - Highway Planning and Design (U)
CEEN 4630 - Airport Planning and Design (U)
CEEN 4640 - Traffic Characteristics and Design (U)
CEEN 6610 - Advanced Traffic Characteristics and Design (G)
CEEN 6630 - Advanced Airport Planning and Design (G)
CEEN 6645 - Advanced Highway Planning and Design (G)

Research Interests:
Geometric Design of Highways, Accident Analysis, Emergency Response Services, Traffic Control Devices, Left-turn Control, Alternative (Clean) Fuels, Older Drivers, Human Factors.
Advisor: Student Chapter Institute of Transportation Engineers (ITE)
Links to: MU ITE Chapter | MU ITE Exec. | ITE WI | ITE.org | Alumni page |MU Civil Events-Pictures |Older MU ITE Pictures

Hobbies: Motorcycles, old cars, camping, hiking, sailing, swimming, traveling, reading, photography.