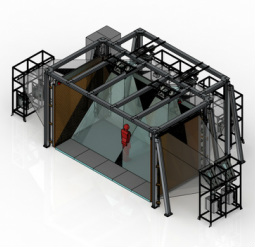 Versatile large-scale immersive environment (CAVE)
The hallmark resource of the Marquette University Visualization Lab is a versatile large-scale immersive environment consisting of four display surfaces including an extra wide front wall and floor, and two side walls. This resources includes stereoscopic viewing, motion tracking equipment and space for ~30 people. The viewable dimensions are 18'6" (front) x 9'3" (height) x 9'3" (depth), providing near 4K resolution on the front wall and a total resolution of 15.7 megapixels.
This versatile configuration facilitates:
viewing of content by a large audience, while also projecting on the entire width of the floor
rendering of comparative or separate content using 'split mode' (two 3-sided environments)
detailed motion for applications such as gait analysis and performing arts
---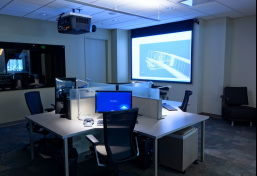 Content Development Lounge (CDL)
The CDL contains high-end workstations, state-of-the-art display systems and tracking equipment for use in developing digital content. In contrast to a typical classroom or lab, the CDL was designed to be an inviting place for Viz Lab contributors to create and share content, hold meetings for ongoing or pending projects, and serve as a recording and debriefing site for experiences held in the adjacent large-scale immersive environment. The CDL includes spacious leather seating, programmable indirect lighting and ergonomic pods with local task lighting.
---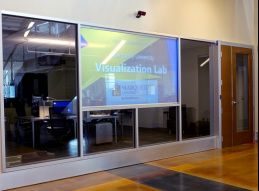 Holo Screen
Consistent with a theme of transparency and fostering collaboration that is apparent throughout Engineering Hall where the Visualization Lab is located, the entrance of the CDL contains a holographic rear projection system that allows viewers to look at, and through, the screen. The Holo Screen displays digital signage of scheduled events and content being featured in current initiatives. The Holo Screen is coupled with a 3D ready projector and emitter that permits seamless viewing of content among all the Viz Lab's large-scale display surfaces using a single type of stereoscopic glasses during featured exhibits and events.
---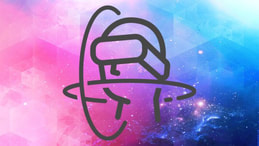 Head-Mounted Displays (HMD)
MARVL is spatially restricted to the Marquette University campus in downtown Milwaukee. Patrons of the lab therefore use head-mounted displays as a way to remotely deliver content created for MARVL's large scale immersive CAVE environment. MARVL also has experience developing content specifically for use with HMDs. Devices used to date to deliver portable versions of MARVL's exceptional content include the Oculus Rift, GearVR and HoloLens.
---

Associated Hardware
HP Z820 E5-2670 workstations with 1TB HDD, 32GB and NVIDIA QUADRO K5000 (Qty=6)
Christie Digital Mirage WU7K-M projectors with Christie Twist (Qty=10)
ART Tracking system with ARTTRACK2 cameras (Qty=6), FlyStick2 wireless interaction devices (Qty=2) and DTRACK2 software
Marantz SR5008 7.2 channel receiver with AirPlay
JBL Control 5.1 speaker system
ASUS Xonar DX 7.1 channel sound card with Dolby Digital Live AC3 encoder
Crestron control systems (Qty=2)
Mechoshade motorized dividing system
HP Z420 E5-1620 workstations with 1TB HDD, 16GB RAM and NVIDIA QUADRO K4000 (Qty=5)
Christie Digital Mirage WU7 projector
ART SMARTTRACK Tracking system with FlyStick3 wireless interaction device
HP 600 I5-4570 rack-mounted signage workstation with 500GB HDD, 4GB RAM and GEFORCE GT 640
ASUS VG248QE 144Hz 24" widescreen LCD full HD active 3D monitors (Qty=4)
ASUS VG23AH 23" widescreen LED full HD passive 3D monitors (Qty=2)
NVIDIA 3D Vision 2 wireless kit with glasses (Qty=4)
Drobo B800FS 8BAY NAS
Logitech F710 Gamepads (Qty=2)
LOGITECH K400 Wireless Touch Keyboards (Qty=2)
Microsoft Kinect sensors (Qty=2)
Oculus Rift (Qty=2)
Samsung GearVR (Qty=2)
Microsoft HoloLens (Qty=2)